Here's our big announcement:
Our new album, Buckminster, will debut Feb. 25th! But it's ready for pre-order at our record label,
DFTBA
. You can order it with a snazzy t shirt as well!
<--Click here to order now!
As an added bonus, if you buy the hard copy, you will get a digital download of the album immediately, including four embarrassing song demos made in Garageband.
Almost two years ago, Nate (the drummer) came to us with a list of essays by Buckminster Fuller with titles such as "In the House of 1982 Built Like a Ship" or "When We Live in Circles and Eat in Merry-Go-Rounds." There were about ten essays, each one with an equally crazy/genius title. He said, for our next album, we should use these as our song titles.
I had heard of Buckminster Fuller. I knew he had invented the
geodesic dome
but that's as far as my knowledge went. Those essay titles had sparked my curiosity so I read his
wikipedia page
. Afterward, I wrote a song about him. Over the next couple months, I wrote maybe a dozen more songs of varying quality. All about Buckminster Fuller. By that time, we knew our next album would be all about him.
I was surprised by the scope of his work which went beyond domes and into
automobile
and
map
designs, even
cities that floated in the sky
. He helped popularize the term
"Spaceship Earth"
and one of the first scientists to consider our impact on the environment. But, most of all, what we found most inspiring about Buckminster Fuller was the incident that led to everything.
In his early thirties, before he had done anything, he was broke, living in Chicago public housing with his young family. His daughter got sick and died. Overcome with guilt, Buckminster started drinking and came close to suicide. But instead of killing himself, he decided to devote the rest of life to seeing what an individual could do to change the world. He saw his entire life as an experiment testing the impact a single person could have on the rest of humanity. That was Buckminster's greatest invention: Himself.
Maybe that's an overly lengthy explanation for what amounts to just a bunch of rock songs but we're pretty proud of the album, and without Buckminster Fuller, it would never have happened.
Hope you enjoy it!
P.S. We have three other CDs as well!
Expert
(2009)
Purchase
dftba.com
iTunes
Cholera
(2006)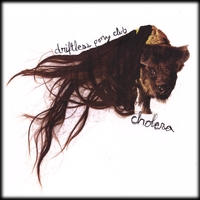 >
stream full album
it's free!
Purchase
CD Baby
iTunes


Janel
(2004)

>
stream full album
it's free!
Purchase
iTunes
HARD COPIES CURRENTLY OUT OF STOCK>